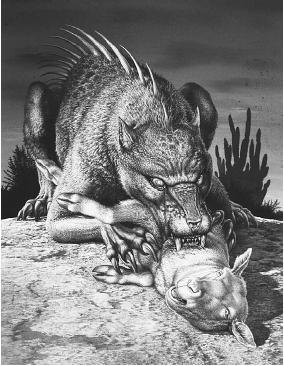 From a young age, something about the chupacabra both deeply unsettled and fascinated me. It was small, it was feeble looking, and it was kind of cute in a creepy, reptilian sort of way. Yet the disturbingly vicious method in which it killed its victims skyrocketed it in my childish mind from mischief-making sprite to bloodthirsty emissary of Satan. The name chupacabra literally means "goat sucker" in Spanish and before you ask, no, this isn't some kind of freaky Hispanic porno. The chupacabra is classed as a "contemporary legend" and supposedly began terrorising the Americas in the 1990s, starting with a spate of killings in Puerto Rico.
In March of 1995, eight sheep were discovered dead on a Puerto Rican farm. The victims had only three puncture wounds on their chests and had been completely drained of blood. Now I don't know about you, but I'm kind of a fan of my blood and would prefer that it stayed in my own body. By August of the same year nearly 150 farm animals and pets had reportedly been killed in the same way. Violent, 'Nam-style flashbacks began plaguing the locals as they were reminded of a similar epidemic in 1975, when the Puerto Rican town of Moca had been terrorised by "El Vampiro de Moca" or "the Kitten of Moca". Just kidding! "THE VAMPIRE OF MOCA". As if life wasn't hard enough, it appeared as though the towns of Puerto Rico were once again being targeted by the only vampire with a goat fetish.
At first, people thought a satanic cult may be behind the killings, until a woman named Madelyne Tolentino came forward and claimed to have seen a creature. Not just any creature, but a small, scaly, kangaroo-like reptile that hopped after goats in a menacing and totally non-comedic way. Silverio Pérez, a Puerto Rican comedian, is credited with coining the term "el chupacabra" not long after the incidents were reported, which is a testament to just how seriously people were taking our little lizard friend. When you're named after a joke by some two-bit comedian, you're hardly striking fear into the hearts of men.
Yet our slithery bloodsucking imp wasn't about to let this deter him. Not long after Tolentino's testimony, similar killings were reported from the Dominican Republic and Bolivia right through to Mexico and the United States. Apparently, by March of 2005, el chupacabra had even reached Russia and took the liberty of killing and draining 32 turkeys just to, you know, let everyone know he was there. The last known sighting took place in April of 2014, when a couple from Ratcliffe, Texas claimed to have captured one of the beasts. Scientific researchers discovered the animal was in fact just a racoon with sarcoptic mange but I have to believe that, if I was confronted by a foot-high hairless creature rummaging through my garbage, I'd probably think it was Hellspawn too.
Lately, some people have started to argue that the chupacabra may in fact be an ABE or "Anomalous Biological Entity". In sci-fi speak that means a pet or experiment that once belonged to an extra-terrestrial race but has since escaped and decided to wreak havoc on our planet. These UFO aficionados claim that the government has been trying to hide the presence of the chupacabra for years and that perhaps, just perhaps, the Republican Party is actually being sustained by goat's blood. Okay so that part about goat's blood is a complete lie but, if hyper-intelligent alien life forms did exist, do you really think they'd spend the better part of their time engineering a creature whose primary goal was to terrorise a few Russian turkeys? This reporter says, yes…yes they probably would.
Appearance
Physical descriptions of the creature vary between countries and it appears to range in size from "large rabbit" right through to "small bear". It's characteristically reptilian, with either leathery skin or greyish green scales covering most of its body and spines or quills jutting out of its back. Most descriptions claim that it hops like a small kangaroo, but in some areas it appears to run on all fours like a wild dog. It is often portrayed as looking slightly emaciated, with unnaturally pronounced eye sockets and skeletal features. Being a predator, it has large fangs and claws for taking down goats and turkeys, the most cunning of prey, but it is sometimes depicted with features like that of a vampire bat due to its predilection for drinking its victim's blood. So just imagine a bug-eyed, scaly frog with oversized choppers and you're practically there.
Origins
Believe it or not, chupacabras may not actually be real. I know this may come as quite a shock to you, so just take a moment to let it all settle in. After a five-year investigation, Benjamin Radford, author of Tracking the Chupacabra, discovered that the original eyewitness, Madelyne Tolentino, had actually been describing the alien Sil from the sci-fi horror flick Species. Why it took Radford five years to figure this out is beyond me, particularly when you take into account the fact that Tolentino had seen the movie only a few days prior to the event. Evidently it was a slow day at the Bureau for Chupacabra Investigation, or Radford just really needed the money. Either way, Radford concluded his investigation by stating that Tolentino had not seen a chupacabra but was in fact just batshit crazy, as she had begun to believe that the events from the movie Species were really happening.
Over 300 reported victims of the chupacabra were examined by veterinarians and a necropsy of the corpses found that the animals had not actually been drained of blood but were just a little deflated, as I'd imagine anyone would be after, you know, becoming a corpse. Many of the reports in the United States and several other countries were confirmed to be coyotes suffering from sarcoptic mange that had started hunting livestock because, in their weakened state, they couldn't take on their usual prey. The two holes on the necks' of the victims were consistent with canine teeth and the fact that the animals had not been eaten indicated that they probably escaped their predator but died later due to internal bleeding.
So a rather disappointing end for our creepy little critter. No one knows exactly why the legend has perpetuated for so long or why it spread to so many different countries, but at least now goats of the world can sleep a little easier.
Modern-Day Usage
Considering how young this urban legend is, the chupacabra has managed to weasel its way into a number of media outlets. In fact, its fame is so far-reaching that I can't even begin to mention all of the references to it here, so I've chosen a smattering of the more famous ones to give you an idea:
The films Chupacabra: Dark Seas, starring John Rhys-Davies, and Guns of El Chupacabra, starring Scott Shaw, both revolve around the urban legend.
In Marvel's Fantastic Four miniseries "Isla de la Muerte", our heroes head to Puerto Rico to confront the chupacabra.
Marvel's notoriously controversial antihero Deadpool is at one point enlisted by a Mexican goat-herder to save his prize goat Bella, which has been kidnapped by a group of chupacabras.

Dexter's cheeky chupacabra

During the second season of the cartoon Dexter's Laboratory, Dexter accidentally creates a creature known as "La Chupacabra" that subsequently escapes and makes its way to South America.
In the South Park episode entitled "Jewpacabra", Eric Cartman tries to hunt down a Jewish chupacabra that he claims kills children on Easter Sunday.
In an episode of Futurama, the Planet Express crew travel down to the sewers and are confronted by a vicious monster that the local mutants call El Chupanibre.
In the anime Occult Academy, Maya and the gang investigate a series of mysterious cattle deaths near their school. The character Ami is eventually kidnapped by the chupacabra, and it's up to her friends to save her.
In the wildly famous T.V. series X-Files, the episode entitled "El Mundo Gira" reveals that the chupacabra are actually illegal immigrants who have been infected with an alien fungus.
In an episode of the T.V. series Bones entitled "The Truth in the Myth", one of the possible murder suspects is a chupacabra.
In the video game franchise Castlevania, later games feature an enemy known as the "Cave Troll" but this is a mistranslation; the enemy is in fact a chupacabra.
The chupacabra features as an enemy in the video game series Shin Megami Tensei.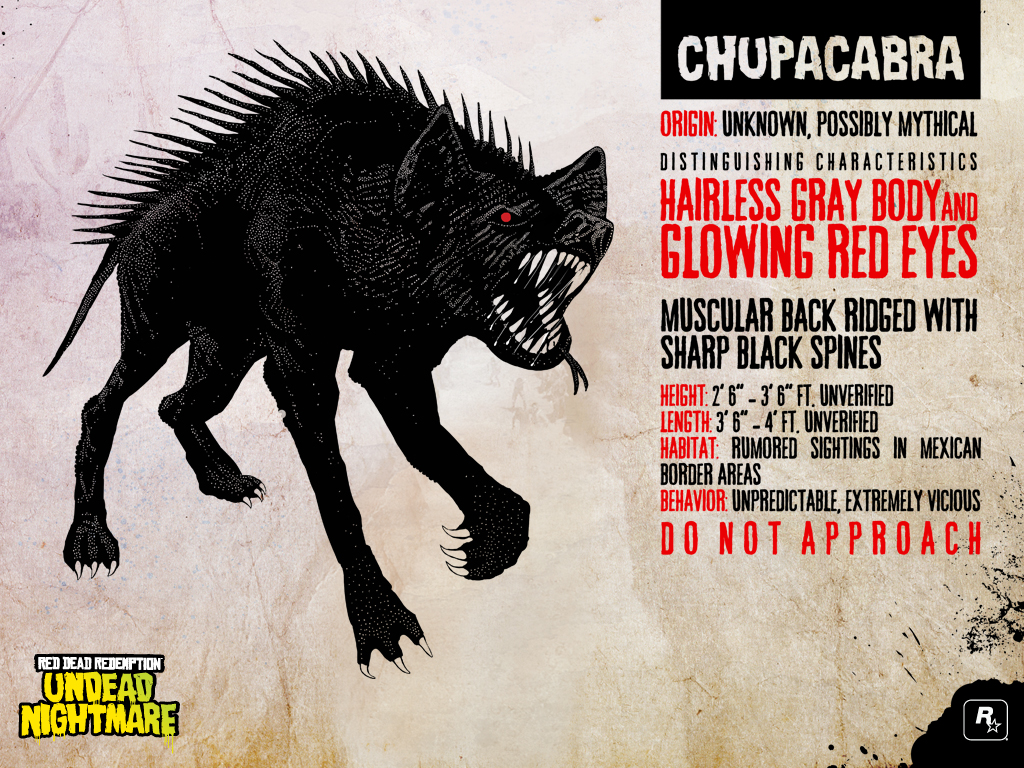 In the video game Red Dead Redemption: Undead Nightmare, a chupacabra can be killed as part of a side-quest. Killing it even rewards you with an achievement entitled "Chupathingy".
In the video game Fallout: New Vegas, the character No-Bark Noonan confuses an enemy known as a Nightkin for a chupacabra. When someone explains to Noonan that the holes in the murdered cattle were in fact made by bullets, he responds by saying "well…we got a chupacabra with an automatic weapon".